UEFA Europa League Tickets for Sale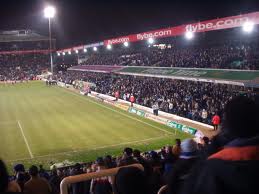 The UEFA Europa League is one of UEFAs foremost international tournaments.

Formerly known as the UEFA Cup, the UEFA Europa League has a rich history, and the tournament is considered secondary only to the UEFA Champions League in terms of prestige.

The tournament was originally known as the Fairs Cup, one of Europe's first ever European competitions. In 1971, the format of the tournament changed, and it became known as the UEFA Cup.

Originally, the competition was designed to give European participation to teams which had finished second in their own domestic league. Over the years, the tournament expanded, and in 1999, the UEFA Cup was merged with the Cup Winners Cup, making the UEFA Cup the second most prestigious tournament ran by UEFA.

As of 2009, The UEFA Cup was renamed as the UEFA Europa League, and was expanded even further to encompass the Intertoto Cup, giving even greater access to teams from nations not traditionally associated with footballing success.

The winners of the UEFA Europa League are invited to take part in another UEFA organised competition, the UEFA Super Cup, a one off tie which is played between the winners of the UEFA Europa League, and the winners of the UEFA Champions League.

The tournament has seen some of the biggest names in world football contend for the title of Europa League champions. Players such as Keegans and Toshack of Liverpool, Bergkamp  and de Boer of Ajax, and Ronaldo and Pagliuca of Inter Milan have all held aloft the famous trophy as winners of the UEFA Europa League. Managers, too, hold the trophy in high regard, and previous managers who have won the trophy include names like Jose Mourinho, Bobby Robson, and legendary Liverpool FC manager Bill Shankly.

In terms of success in the tournament, the honour of being the most successful team in the history of the tournament is currently shared between two Italian teams, Inter Milan, and Juventus, who have both won the UEFA Cup three times each, and have been runners up on one occasion each. The next most successful team is Liverpool FC, who have also won the tournament 3 times, but are edged out by virtue of never having finished runners up.

Individual players have also contributed towards the success of the tournament. From all-time record goalscorer Henrik Larsson, who managed to score 40 goals in 56 games in the Europa League, to Inter Milan legend Giuseppe Bergomi, who holds the record for the greatest number of appearances in the Europa League, playing a  total of 96 games in the tournament, all of these players have contributed towards making the UEFA Europa League the success it is today.