Hot selling football tickets
How To Buy Football Tickets Safely.
The most popular sport in the world is football and it is played in almost every country with over two hundred and fifty million people. Billions of fans from every part of the globe watch football every week.
Despite the popularity of football, tickets to many of the top games are difficult to obtain and many fans find it hard to buy tickets for their favourite teams.
Ticket4Football has the best solution for fans searching for tickets to watch and support their teams, whether playing at home or away. Now you can catch the event live.
Our Guarantee.
Ticket4Football guarantees that all the tickets sold are 100% guaranteed to be genuine. Our ordering process is secure and safe to use and you will find our customer service friendly, helpful, efficient and a joy to use. Ticket4Football has been safely selling football tickets online for over seven years and during that time has sold tens of thousands of tickets to thousands of fans throughout the world.
Sitting Together - If you order two seats together we guarantee they will be next to each other. If you want to order more than two seats together please contact our sales support team via phone, email or the website.
Ordering.
So to begin your safe ticket purchase start by browsing our website and locating the tickets to the game that interests you. You will find that Ticket4Football has hundreds of tickets for all the best games and top clubs in the UK, Europe and worldwide. Often Ticket4Football has tickets that cannot be found elsewhere including those difficult to get prestige tickets. We have a real time ticket inventory system, so tickets shown for sale are available except in very unusual circumstances.
You can place your ticket order either online or by telephone (if you have an existing account with us), our UK telephone number is 0208 432 2850. This number is manned both during normal office hours, evenings and weekends by leading experts in the football ticket world. All payments are processed by a 3D Secure Card Service guaranteeing you peace of mind and security all the way through the order process.
Nothing Hidden Ticket Prices - Our ticket prices are clearly stated along with any taxes, fees and delivery charges before any payment information is required. Ticket4football is a ticket re-seller and we charge a commission based on the ticket owner's price which they decide and can be above or below the original face value of the ticket.

We have an extensive selection of in-demand tickets for the major clubs including:-
Celtic Tickets | Arsenal Tickets | Liverpool FC Tickets | Manchester United Tickets | Southampton FC Tickets | Tottenham Hotspur Tickets
Latest Football News
April 3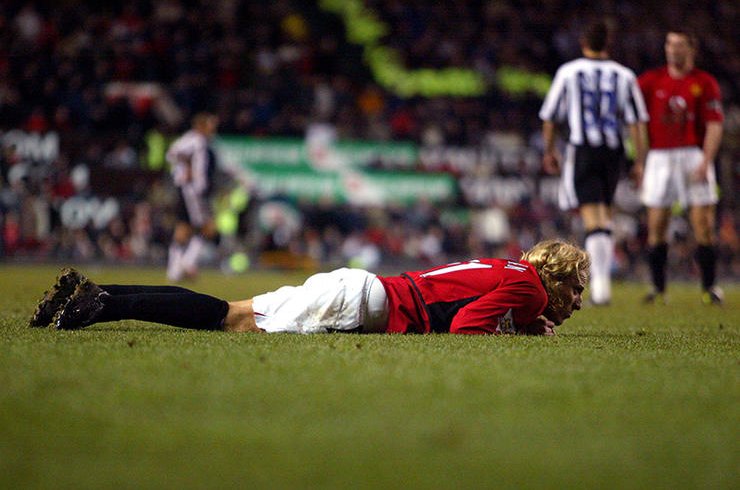 What the papers say Manchester City and Manchester United have fallen behind in the battle to land Benfica's Joao Felix, The Sun claims. Neither side have made any approach to the Portuguese club, despite having…
Read More
For some reason, shirts became incredibly baggy in the late '90s – picture Steve McManaman hurtling along in a long-sleeve that looks like he borrowed it from a much bigger brother. However…
Read More
Diego Forlan Forlan retired from international football in 2015 as Uruguay's second most-capped player of all time (112) and their third-highest scorer (36 goals). He was the 2010 World Cup's joint-top marksman with five goals...
Read More
Man United's poor form Did Manchester United make a mistake appointing Ole Gunnar Solskjaer on a three-year deal during the international break? Fears about Solskjaer's tenure have started to bubble up in recent weeks. Looking at…
Read More
March 26
Man City vs Liverpool: Fears Sergio Aguero will…
Man City vs Liverpool The business end of the Premier League seasons starts this weekend following the international break. Liverpool are two points clear of Man City in the table, although the Reds have played…
Read More
Good for Spurs: Man United & Ole Gunnar…
Man United & Ole Gunnar Solskjaer According to the Daily Mail, Man United are poised to announce Ole Gunnar Solskjaer as their new full-time manager imminently. The Mail have reported the following on Tuesday: Manchester United are…
Read More
Ander Herrera: Arsenal links addressed and his Lionel…
Manchester United midfielder Ander Herrera has addressed reports linking him to Arsenal and Paris Saint-Germain. The Spaniard's future at Old Trafford is currently uncertain with his contract set to expire in three months. He has also been discussing…
Read More
Van Dijk & Alisson have Liverpool in a…
A Reds legend has been impressed by the transfer business at Anfield, with Jurgen Klopp's side now considered to be ready for more trophy challenges Virgil van Dijk and Alisson have Liverpool in "a really…
Read More